#BlogTops Challenge: Chinoiserie
Posted on September 30, 2013 in #Blogtops, Art & Culture, Millennial Musings
Last night I had the pleasure of my first official outing with Theoroi, the young professionals group of the Schubert Club. I plan on delving deeper into our visit to the Dakota Jazz Club in an upcoming blog post. However, since the next 20-One Word #BlogTops for 20-Somethings topic is COCKTAIL, I thought I would take this opportunity to talk a bit about a new one I tried last night.
But before that, a bit of a back-story. I used to LOVE me some mixed drinks. I've never really been a beer drinker, and, to be frank, don't even like the taste of alcohol all that much. Back in college I would do anything to cover up the taste of the alcohol. My old staple was Diet Coke mixed with 99 Blackberries, which I found tasted a uncannily like Zebra Stripes Gum.
Yummmmmmmmm. 
When I finally started visiting bars, I would get all sorts of fancy mixed drinks that now make my stomach turn just thinking about them. Now, at a more worldly and wise age of 26, I have taken to the most simple (ie. cheap, Weight Watchers-friendly, and don't make me feel like a dried-up raisin in the morning) drinks, usually a vodka soda water with lime or a vodka Diet Coke.
Sometimes though, if I'm feeling a little saucy, or the occasion calls for it, I'll treat myself to a more decadent drink. A few weeks ago, after marathon watching all seasons of Sex and the City (plus the first movie, but not the second, 'cause lol) I was craving a Cosmo. Similarly, last night, in the midst of the speakeasy-esque, liquor and jazz ambiance of the Dakota, I felt compelled to join in the festivities with one of their specialty cocktails.
After perusing the menu of choices, I was overwhelmed by the selection. St. Germain Elderflower Liqueur? Velvet falernum? Where were the familiar ingredients like Red Bull and Sprite? In a desperate attempt to make a choice, I turned to one of my fellow Theoroi's and asked what she was drinking. It looked yellowish, and a bit cloudy, almost like pineapple juice. The girl who I had asked launched into a description of the drink, sweet, a bit earthy, fairly boozy. What really intrigued me, though, was the name—Chinoiserie—which she mentioned that the server had indicated was somewhat derogatory to Chinese people. Boozy with a side of epistemological arrogance? Sold! I ordered and enjoyed the drink (it was sweet, balanced out by the tartness of the bitters and ginger beer) and vowed that I would do more research in the morning.
CHINOISERIE

 $10

(Duke Ellington 1971)

mekong thai spirit, pineapple, black strap molasses bitters, ginger beer, star anise
The morning after, like a good little #millennial I took to Google. Surprisingly I didn't find much about the term other than it was French and roughly translated to "Chinese-esque." Most references to the word referred to art or home decor with a vaguely Asian influence.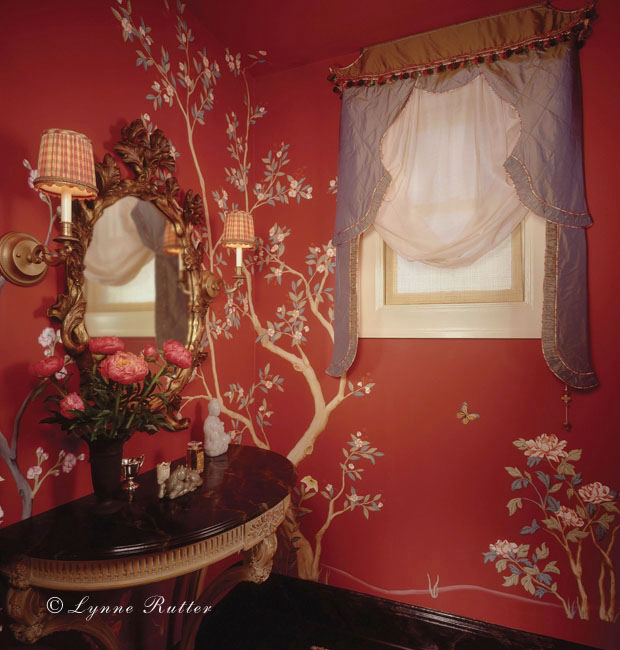 Chinoiserie decor 
I then added "Duke Ellington" to my list of search terms and stumbled upon his rendition of the song from the Nutcracker Suite. I'm ashamed to admit that I never even knew that song was supposed to be Chinese, and certainly didn't sound like any Chinese songs that I know.
All the research got me thinking about the history of romanticizing and appropriating other cultural traditions to make them popular. Music, art, even those little Chinese character tattoos. Why, when these traditions/practices/icons become appropriated into the dominant mainstream do they suddenly become okay and accepted? Many music aficionados have heard the old anecdote about music—true for Rock 'n Roll, Jazz, Blues, and Rap— not being popular (or even permitted) until White people like it. I even got to thinking about the "twerking" sensation and the slightly older "Harlem Shake." Even though "twerking" has only very recently risen to the forefront of popularity because of Miley Cyrus' VMA performance, it's been around hip-hop culture since the mid-90s and kids at my high school often referred to their dancing as "twerking." As for the "Harlem Shake," look no further than this video:
I found it interesting that even Duke Ellington, a Jazz genius in his own right, felt it necessary to make a commentary on the "orientalization" of Western Culture by utilizing traditional Chinese instruments and pentatonic scales in his music. Even as an African-American, the colonized spirit of taking things over and claiming them as one's own manifested itself in his crafy. It's not just Harlem, or China…it's everywhere.   Perhaps it's my recent exposure to the stories of Minnesota's Dakota people, but the habit of coming in and taking aspects of another culture just doesn't sit well with me. Perhaps if Duke had collaborated with a Chinese artist I would feel better.
I'm all for the mixing of cultures. Hell, I'm the product of two-different cultures, myself. (Somewhat unrelated: check out this beautiful link.) However, I think it's all about the asking and the intent. As a society, we need to figure out a way to make space for all of our stories so that we can make new (more honest, and more truthful) ones together.
Not bad for a little cocktail huh?
"BlogTops" are weekly blog posts that myself, my good friend Dave, and hopefully you will join us in discussing topics that we feel the majority of millennials are dealing with or have dealt with in their lives. To keep it creative we pick one specific word for the weekly topic and then we are letting our imagination and creative writing take our blogs in whatever direction we so choose. It could be anything from generalizing the topic, to specific memories, to something serious, or funny. It's anything goes! If you want to join along tag your posts with BlogTop on Twitter, WordPress, Tumblr, etc. and we will be sure to promote your blogs on social media!