#StitchFix Review: Fix #4 and a mini rant
Posted on March 27, 2014 in Fashion, Millennial Musings, Real Talk, Reviews
Sooo, here's the thing…
I started this post on January 31. Yikes! Talk about tardy. So by now, I've already worn most of the pieces and you'll probably be able to tell what I got and what I didn't get. Still, I think it's important to give credit where credit is due and wanted to give Stitch Fix a mini shout out after some flack that I'd been giving them for my last couple fixes.
I'll admit, I went into this fix with a bad attitude. After Fix 2 and Fix 3 I said to myself, I'm going to give this thing ONE. MORE. CHANCE. and it BETTER not let me down again. And, to be honest, I had to take a second look at some of these items before I gave them the ultimate thumbs up. Throughout the whole experience I just had to repeat my Stitch Fix manta: remember the red pants.
Item 1:

 "7th Grade Slow Dance" Dress
Sorry, I lost my sheet of paper with the names and prices of everything so you will have to deal with my memory and "creative" naming conventions for all of my items. 
On paper I should love this dress, which is probably why my stylist picked it. I love the color-blocking, the teal and the empire-style waist. In actuality though it was just not cute.
It's somewhat hard to tell from the picture but the white on the top is TOTALLY see-through. Also, I'm pretty sure my friends and I tried on this exact dress when we were shopping in the dress section of Macys or Herbergers in 2001. There was just nothing fresh or modern about this at all.
Verdict:
Sent Back. 
Item 2:
"Tree Roots" Necklace
In my experience, Stitch Fix is usually (though not always) pretty spot on with jewelry. Maybe us curvy girls just tend to like jewelry 'cause it's pretty hard to not fit into?
In any case, I really like this necklace! I like that its all one piece and looks like tree roots or coral. Although I typically go for silver jewelry I really did like this.
Verdict:
Kept! 
Item 3:
Adorable Painting Smock for a 9-Year-Old 

I do have to give Stitch Fix A for effort with this piece. After some bad luck with the colors of my last fixes, I had requested "bold, saturated jewel tones" which this definitely was. I also didn't hate the military-like shoulder details.
Again, there was problems with the fabric of this–MUCH too flimsy for a Minnesota winter, and sleeveless? Why? I also am not a fan of boob-pockets (or Howdy Doody pockets as the bee-eff likes to call them). And…I don't know…doesn't this make me look like a little kid? Or maybe with a side ponytail, Claudia Kishi from the Baby Sitters Club?
Ugh. I wish I didn't make that comparison since Claudia Kishi is an amazingly inspirational fashion idol and I didn't end up keeping this one.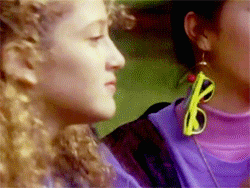 What a goddess. 
Verdict:
Sent Back 
 Item 4:
Unassuming navy cardigan
Nothing much to say here. I like plain things. I like cardigans. Stitch Fix went for the pinch hitter with this one and succeeded!
Verdict:
Kept. 
Item 5:
Teaqua Top 
Just a couple bad things with this little number. Again with the Howdy Doody pockets and just a little tight in the tummy and chest.
But for this top I will do some dang sit-ups because….
Ohmigahd y'all I am LIVING for this top.
"Teaqua" is a color my Facebook husband Clay introduced me to in college which is a combo of Teal and Aqua (aka my favorite color). I love the banded bottom of the shirt. I absolutely adore the princess type sleeve detail. Yes. Everything about this.
Verdict:
Enthusiastically kept! 
All in all, a pretty good fix, but I'm not sure I'll be utilizing this service much or at all in the future.
Rant time.
Admittedly, I have cancelled my last couple months of fixes mostly to save the cash. In general, what I've been getting hasn't been worth the investment in the service and been worth the emotional turmoil it takes on me to be trying things on that aren't my style or don't fit.
Maybe even more then that though is this "motto" that Stitch Fix has. Maybe they've had it a while and I haven't noticed, or maybe they just recently added it:
Now every woman can have her own personal stylist.
Oh really? Every woman? Yet, this is pulled straight from the front page of their website:
We currently carry sizes 0–14 (XS–XL). We are actively working to increase our range of sizes so that we can serve more women well.
So, Stitch Fix, does this mean that a woman over a size 14 or under a size 0  isn't a woman? I know it's a slogan and I shouldn't take it personally and that Stitch Fix has been working on extending their sizes for MONTHS now, but dammit words MATTER. As if women outside of this narrow view of what is socially acceptable need another reason to resent the service that they cannot use, you have to add insult to injury by isolating them from the community of "every woman."
Anyway, to make a long story short, while I adore the idea of this service and have had some successes with it, I don't know that I can continue to use it as long as it can't carry out its mission to cater to EVERY woman. Amirite?
Let me know what you think. Leave me a comment!